OUR PROJECTS
The Syrian people are the main focus of all of our projects. Syrian refugee children, in particular, are paying a very high price for the desire to live a life of freedom and dignity. Children are a country's future.
Food aid
In the last years we have been able to distribute more than 150 tons of staple foods to the struggling Syrian civilian population through our food packets. The main areas where we provided food aid were Aleppo and the rural regions surrounding Hama and Idlib. Here are a few glimpses of the food aid we provide:
With the project "Aleppo Hilfe" [Aleppo Aid], we provide food packages to families in great need in the Aleppo region, which has been cut off from assistance from the international aid organizations. The residents of Aleppo are suffering from daily bombardments of residential areas with TNT barrel bombs, so supply chains have completely broken down. Many civilians have had to flee and the remaining people are desperately in need of aid.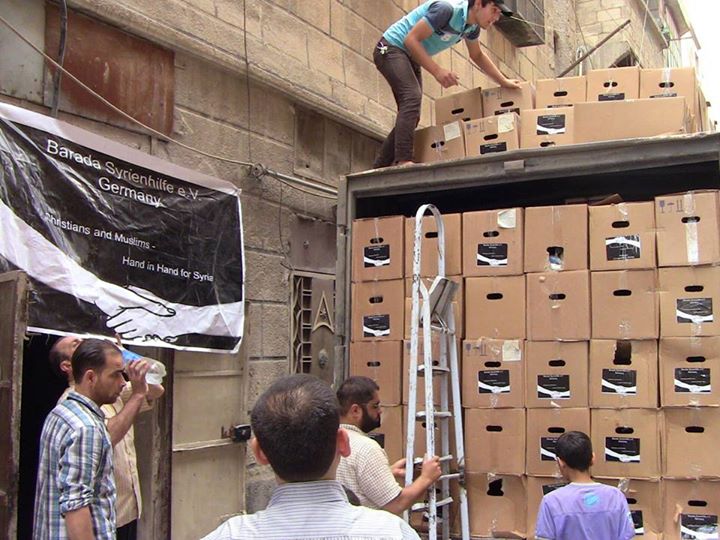 Distribution of food packets in Aleppo
Helpers from Barada Syrienhilfe e.V. transport the food right into Aleppo. The food packages are packed in Turkey and then transported over the border to Syria, which avoids expensive transport costs and routes. This makes it possible for us to quickly and effectively bring large volumes of food into the country. A food package contains around 20 kg of staple foods, including rice, bulgur, flour, pasta, sugar, oil and tomato paste. In 2015 alone, we were able to distribute 3,500 food packages with a total value of nearly €80,000, helping thousands of families.
Besides Aleppo, we have also been able to provide help in other Syrian cities where there is immense suffering like in Idlib, Hama or Daraa. We also distributed 650 food packages to needy families in the Syrian town of Kobane. The city, where the majority of the population is Kurdish, was besieged for weeks by ISIS radical combat troops. As a result of the siege, food became so expensive that many residents of the city could no longer afford it. In 2015 we were able to distribute another 1,000 food packages in the unofficial refugee camps in Idlib like in the Atmeh refugee camp. In line with our mission statement, "Christians and Muslims – Hand in Hand for Syria," we want to show the people of Aleppo and the other cities that they have not been forgotten. Thanks to numerous private donations and our cooperation with Grünhelme e.V. [Green Helmets], we were very successful at this.
We will continue to distribute emergency food aid for the Syrian civilian population in 2016.
Aid deliveries
In Syria and the refugee camps, there is not only a shortage of food but also of many other daily necessities (clothing, diapers and hygiene items). Since 2013 we have sent diverse aid convoys from Germany to the Turkish-Syrian border region and from there deeper into Syria. With these shipments, we have concentrated on a few key areas:
Children's nutrition
Baby formula is one of the most urgently needed items in many areas of Syria. In many cities, baby formula is nearly impossible to find or barely affordable. Yet baby formula is desperately needed because mothers often cannot nurse their babies due to malnutrition or the intense trauma they have experienced. That is why shipments of baby formula are the main component of our aid transports. In 2015 alone we were able to send nine containers with more than 50 tons of baby formula to Syria, thus helping tens of thousands of babies and toddlers. We are planning further aid deliveries containing primarily baby formula in the coming year as well.
Wool blankets
Many of the refugees fled from the bombardments with nothing but the clothes on their backs. The winter months are thus a particularly challenging time.
Medical equipment and dressing material
These have been distributed to various hospitals and field clinics in the above-mentioned cities.
Infrastructure equipment
This includes projects to rebuild destroyed infrastructure. Thanks to a generous donation- in-kind from the firm WILO, a water pump was installed in the city of Hazano in Idlib to provide drinking water. Several electricity generators were also sent to Syria.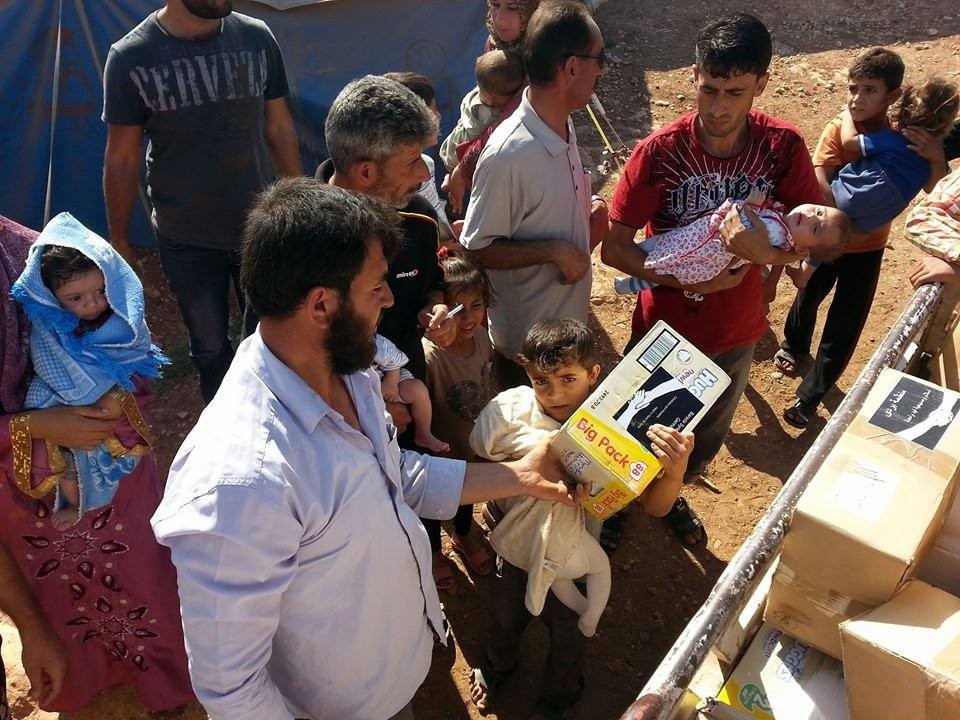 Distribution of food packets in Atmeh, 2014
Each aid shipment requires a lot of time and logistical effort on the part of our volunteer members – starting with the organization and coordination of donations, to packing the goods in the warehouse and finally distributing the aid supplies locally in Syria.
The aid shipments are distributed across the entire country – from Damascus to Qalamoun, from Hama and Homs to Idlib and Kobane. We also provide basic supplies to the Atmeh refugee camp, just inside the border with Turkey. In addition to baby formula, this mainly includes emergency aid for winter. In January 2015, for example, we were able to supply thousands of wool blankets on short notice when the refugee camp near Atmeh suddenly experienced a cold snap and snowfall.
We have also sent seven ambulances to various regions of Syria, where they are being used to care for the sick and injured. The ambulances were driven by volunteer drivers to the Syrian border.
A decisive and important aspect of our aid shipments is that the supplies are sent to the places where people are suffering the most. In addition to providing material supplies, our aid efforts show the people that they have not been forgotten.
Please support our projects and show your solidarity with the Syrian families who have been stranded in the country.
Please support our work and make a donation – every EURO counts!
Donate now
Educational projects
It is the children of Syria who are paying a particularly high price for what began as a peaceful protest. Many of them have not attended school in the months and even years since they fled their cities. Many of them, especially in the lower grades, have forgotten how to read and write. In 2014 we met nine-year-old boys in the Atmeh refugee camp who did not know how to read or write. It had been two years since they last attended school.
Education is the foundation for children and youth to be able to live independently in the future and is a vital element in the rebuilding of Syrian civil society. And education also helps prevent children from being exploited by politically motivated, extremist movements. For these reasons, we are very passionate about these educational projects.
This aid project began with the construction of the Amal School in the Atmeh refugee camp. Atmeh is one of the unofficial refugee camps in the north-west of Syria, just a few kilometers inside the Turkish border near the Syrian province of Haram. The refugee camp came into existence in 2011 and has grown considerably since. It is now home to more than 30,000 Syrian refugees, nearly half of whom are children. The residents are Syrian families who were trying to flee to Turkey but because of the overcrowding of refugee camps became stranded just inside the border. Back in 2012, the Turkish authorities closed the borders to refugees without a passport – which many Syrians do not have and never had.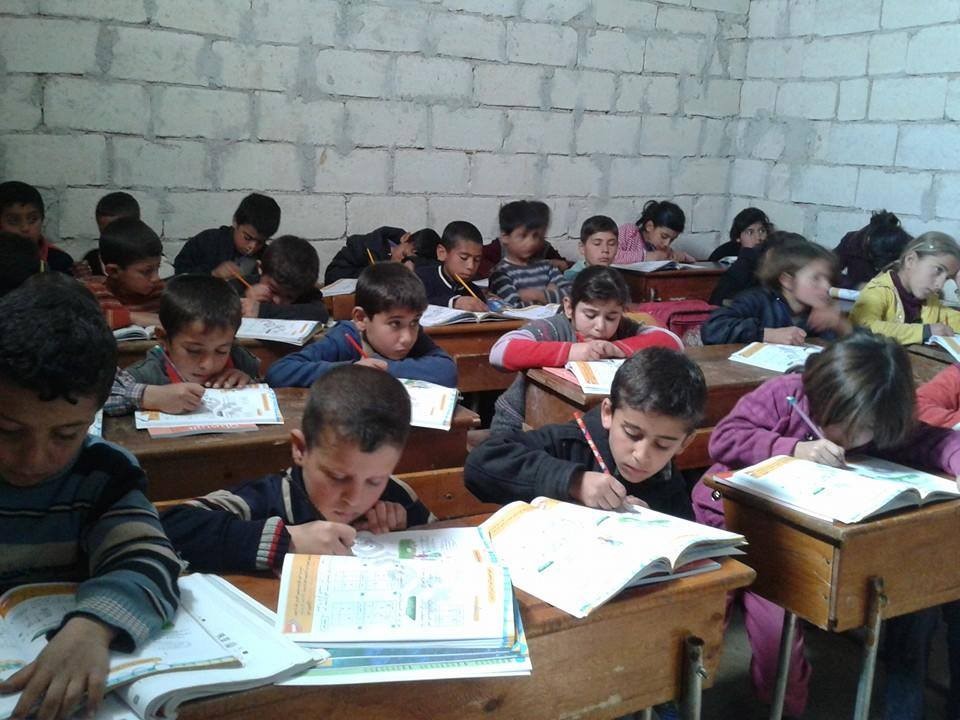 The international aid organizations have no access to these refugees since Atmeh is on Syrian territory. Food, especially for children, is in short supply. Many children are malnourished and weak and are thus more susceptible to illness. Nearly all of the refugees have lost their livelihoods and their homes. Some of these people, especially the children, are severely traumatized. They have experienced bombardments, the destruction of their familiar neighborhoods and often the death of siblings, parents and other family members. When fleeing they were often unable to take anything more than the clothes on their backs.
Psychological treatment is insufficient, if there is any at all. There are no psychologists to help people work through their experiences. As well, there are few toys and not much for the children to do. There are insufficient infrastructural facilities, such as schools and daycares which give some structure to the children's days, and they do not come close to meeting psychological needs. For these refugee children, daily life is dismal, depressing and often hopeless.
"Amal" means "hope" in Arabic. With our school project, we want to give these children hope of a better future. We see education as the key and the foundation for a functioning civil society and for rebuilding the country. Besides education, the school offers the refugee children the opportunity to regain a bit of normality. A structured daily routine is an important step to allow them to work through the experiences of the chaos of war. Working on aid projects in the refugee camp in recent years left us affected and awed, shocked by the unimaginable humanitarian tragedy. So we felt compelled to do something especially for the children in the refugee camp and give them some perspectives for the future.
In 2014 we began the expansion of the Amal School. It now includes 12 classes, from the first to sixth grade. To make the best use of the school rooms, we have set up the lessons in a two-shift system: young children attend lessons in the morning and the older children use the same rooms in the afternoon. Since autumn 2014 around 360 children have registered at the Amal School in Atmeh, Syria. We have expanded our staff from 6 to around 15 employees and teachers. This was all made possible by private donations from Germany – thank you to all our donors for your generous support.
As well in 2014, in cooperation with our partner organization Grünhelme e.V. [Green Helmets], we opened a second Amal School for refugees in the Turkish town of Demirköprü on the Turkish-Syrian border. Thanks to a very helpful Turkish mayor, we were able get a plot of land where we could build the new school. The construction project was managed by the Green Helmets, assisted by Syrians in the community who then sent their children to the school once it was finished. There are around 50 Syrian refugee families living in the town of Demirköprü and around 150 of the Syrian refugee children had not been attending school, in some cases for more than two years.
The school began operations in January 2015 and offers lessons in grades 1-4. In addition to the basic subjects, the five teachers also teach English and Turkish. As of February 2015 we organized a school bus, which brings another 50 Syrian refugee children from nearby villages to our Amal School for lessons because there are no opportunities to attend local schools. Barada Syrienhilfe e.V. is responsible for the coordination of the school, hiring the teachers and ongoing operations. Even though this is just a small drop in the bucket considering that there are hundreds of thousands of Syrian children who cannot attend school, we are very happy to be able to offer these lessons to give our pupils better prospects for the future. We hope that we will be able to further expand the school next year.

As well, since January 2015 we have been covering the rent costs for a refugee school in Reyhanli. The special feature of this school is that refugees can complete a high school diploma here. The school was threatened by closure and the teachers had been working there for more than a year without any pay. We appreciate the incredible dedication of the teachers and want to ensure the continued operations of the school by initially assuming the costs for rent.
Please support our school projects and donate to ensure the schools can keep operating this year.
Please support our work and make a donation – every EURO counts!
Donate now
Medical assistance
As part of our projects, we collect medical equipment in Germany that we deliver to Syria, along with desperately needed medication and bandages. In 2014, this included mobile x-ray and ultrasound equipment, OP microscopes (University Clinic Leipzig), dentist chairs, and respirators for intensive care medicine. This equipment was taken out of service in Germany because of its age, but is still fully operational and can make an important contribution to helping the injured in emergency hospitals and field hospitals in Syria.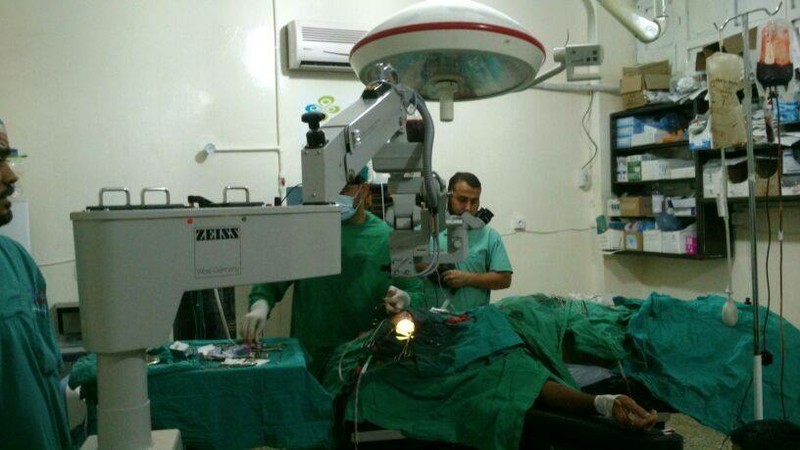 Hearing every day about the suffering of the Syrian people and not being able to do anything – anesthesiologist and emergency physician Dr. Christoph Frick, senior consultant at the hospital Stiftungskrankenhaus in Nördlingen, was unable to stand it any longer. "I found out about the aid organization Barada Syrienhilfe e.V. online and was impressed by their concept. This organization provides direct and unbureaucratic assistance and was founded by my Syrian colleague, Dr. Marwan Khoury, who heads up the clinic Medizinische Versorgungszentrum Hochfranken in Münchberg," said Dr. Frick.
Marwan Khoury traveled to Syria several times and reported repeatedly about the human catastrophe "on an unimaginable scale" taking place there. "These reports gave me the idea that I should not only get involved with this aid organization as a private person, but also get my clinic involved."
Furthermore, our aid project has been supported since 2013 by the continuing education series "Anästhesie Update" [Anesthesia Update]. In addition to monetary donations for our school and medical projects, with the support of various hospitals and dedicated anesthesiologists, we have been able to collect several respirators and other medical supplies to send to Syrian field hospitals and clinics.
As well as medical equipment, we also send dressings and pain relief medication to Syria. "These are especially urgently required in the field hospitals and makeshift clinics in order to care for the injured," said Firas Khoury. "The doctors have to carry out operations under unimaginably catastrophic conditions and then they don't even have the necessary bandages for aftercare and pain therapy for their patients. We provide them with the basic necessities." For example, a field hospital in the Hama region was supplied with desperately needed antibiotics and pain-relief medication. This field hospital treats the injured free of charge and also provides basic medical care for the civil population in the surrounding area.
Please support our work and make a donation – every EURO counts!
Donate Now
Psychological projects
Right off the bat: We are aware that all of our projects in the psychological field are merely just a start and are far from sufficient, considering the extent of the trauma suffered by the Syrian refugees. Nevertheless, this work is particularly close to our hearts. Unfortunately, there are barely any professional programs offered locally by the major organizations to address the various trauma suffered by the refugee children and adults. Certainly, the language barrier is a challenge. We are particularly proud that our member Dunja Khoury, as an Arabic-speaking psychologist, has taken on this project. With her passion and dedication, she is leading and further developing work in this area.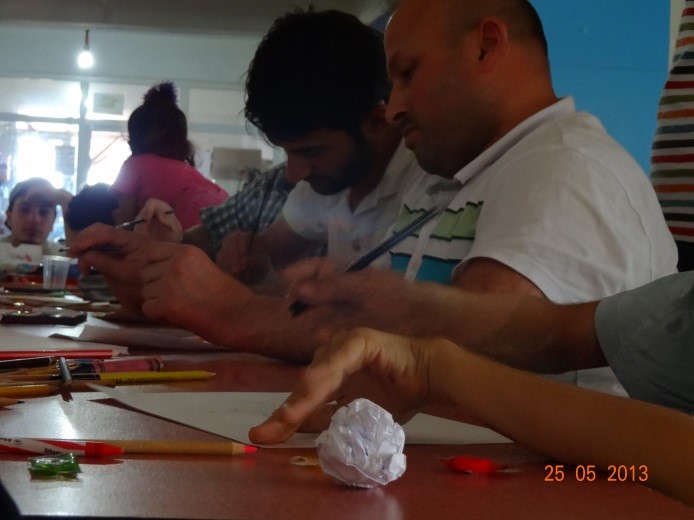 Sympathetic listeners – psychological care
Barada member and psychologist Dunja Khoury traveled several times to the Atmeh refugee camp in northern Syria, where she focused in particular on providing psychological care for children as well as for injured patients at the Reyhanli hospital in Turkey. Further trips are also planned in 2016.
The treatment program includes:
Games:
For refugee children, any kind of diversion is a welcome change from their bleak daily life. Organized group games and activities give them the opportunity to forget their situation, even if just for a moment, and simply be children. Since no major NGOs are managing the Atmeh refugee camp on the Syrian side, there is a lack of professional occupational therapy that would enable the children to deal with some of their trauma, fleeing their homes, or the loss of family members.
Art therapy:
In the refugee camp and in a private hospital in Reyhanli, we invite children as well as adults to draw. Drawing can sometimes serve as the first step to dealing with what they have experienced. Our member Jessica Appelt recalls: "When we arrived at the hospital in Reyhanli in May 2013 and Dunja Khoury announced that there would be painting and drawing in the dining hall at 3 o'clock, I didn't think any more about it. I expected that the injured children and their siblings would come for this art session.
But when we arrived in the hall just before 3, the long dining table covered with pencils, paper and watercolor paint boxes was completely surrounded by adult patients and hospital staff. They were all waiting for us to start drawing... I will never forget how surprised and affected I was that all of the traumatized people were drawing with us. Sometimes they drew what their homes used to look like, or the bombings, or scenes from their flight – it was so touching to experience their fervor and their need to share what they had gone through or how nice their memories of their homes were."
This work is incredibly important and one of the ways we use your donations is to pay for the materials as well to finance the trips to carry out activities of this kind.
A sympathetic ear for traumatized people:
Most of the refugees are severely traumatized. The first step in working through what they have experienced is often telling their personal story. A sympathetic and active listener is something these refugees have not come across in a long time. "At the beginning of our trip, we were surprised how quickly people were willing to tell us their stories even though we didn't know them. Only later did we realize the strong urge they feel to share these stories with someone, because there is no one there who can listen," Osman says, recalling his trip in October 2013. "After all, who should they tell of their suffering – the neighbor, who went through the same thing and is just as traumatized?" This underscores the importance of the trips we make into the border area, where we take time to listen to people's personal stories and give them some empathy.
Please support our work and help the refugees displaced within Syria.
Your donation supports our work – every EURO counts!
Donate Now
Clowns for Syria
In cooperation with the German organization "Clowns ohne Grenzen e.V." [Clowns without Borders], we took on the very special task of bringing some joy and fun into the lives of children living in the refugee camp in northern Syria.
Believing in the clowns' motto: "Laughter is the best medicine," we made our first journeys with Clowns without Borders to the Syrian refugee camps in May and October 2013.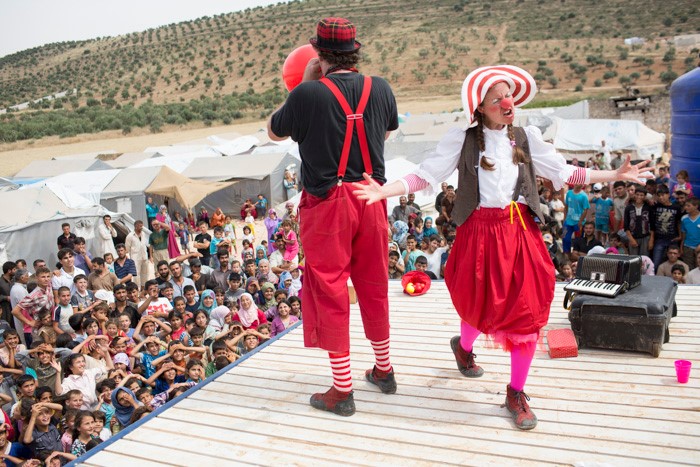 During their performances, the clowns conjured up emotions and created positive memories. And just by being there, the clowns demonstrated that the Syrian people mean something to them and they were performing just for them. "Laughter is the best medicine." Our experience has shown that this is also true for children, teens and their parents or caregivers who are traumatized by war and violence. Our goal is to inject some levity, vibrancy and joy into the lives of these children – offering them a temporary respite from the dismal situation in the camp and giving them some hope.
The importance of such positive emotions is demonstrated by the reaction of some of the older residents of the camp who told our Barada volunteers: "Food and drink are important, but this is the best thing we have ever seen here. Since we've been in this camp, we have never seen our children smile like this and be so lighthearted!"
During their two trips to the Syrian-Turkish border, the clowns put on shows for several thousand refugee children, both on the Syrian side as well as in Reyhanli on the Turkish side.
As in 2013, in 2014 and 2015 the clowns once again joined us in Reyhanli on the Turkish-Syrian border, where we organized performances in schools for Syrian refugee children, and refugee camps, in rehabilitation clinics and orphanages. Together with the clowns, we are thrilled every time to see the eyes of the Syrian children light up with excitement and to experience unforgettable, vivid moments of joy.
We are thankful for every donation that helps us to finance further opportunities for the clowns to travel to Syria.
Please support our work and make a donation – every EURO counts!
Donate Now